1 min ago
Barrett declines to answer questions on voter intimidation
Sen. Amy Klobuchar brought up efforts by President Trump to get his supporters to the polls to observe voting activity and asked Judge Amy Coney Barrett if under federal law it is illegal to intimidate voters at the polls.
Barrett declined to respond directly to the question, saying: "I can't characterize the facts in a hypothetical situation, and I can't apply the law to a hypothetical set of facts." 
She continued: "I can only decide cases as they come to me litigated by parties on a full record after fully engaging precedent, talking to colleagues, writing an opinion, and so I can't answer questions like that." 
Barrett also did not directly answer Klobuchar's question about whether voters would feel intimidated by the presence of "armed civilian groups at polls."
"It's not something that really is appropriate for me to comment on," Barrett said.
13 min ago
Barrett on Trump tweets about overturning ACA: "I can't really speak to what the President has said on Twitter"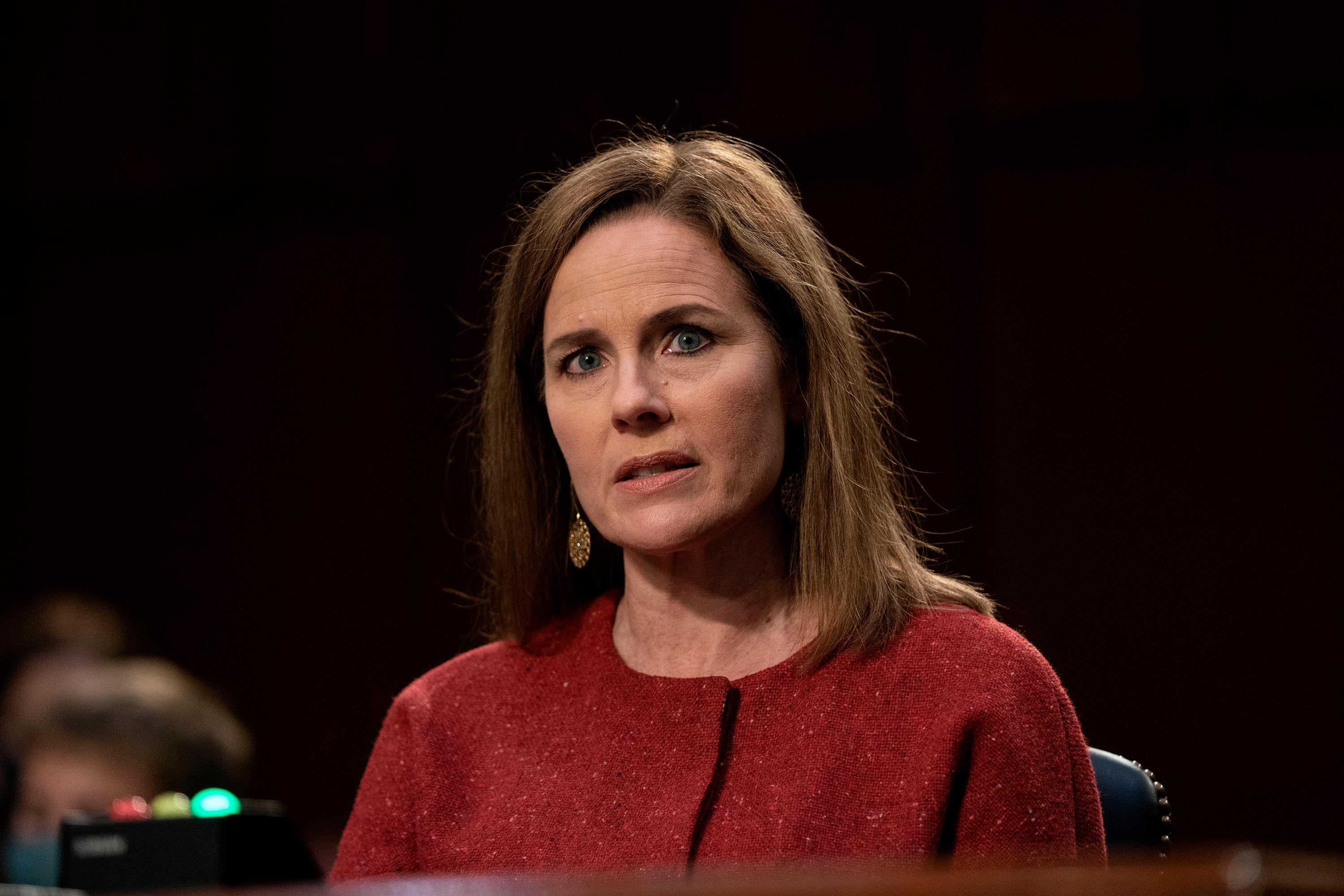 Sen. Amy Klobuchar began her questioning of Judge Amy Coney Barrett by asking if we should take President Trump at his word when he said his Supreme Court nominee will "do the right thing" and overturn the Affordable Care Act.
Barrett responded by saying, "I can't really speak to what the President has said on Twitter." 
She reiterated a point she made earlier in the hearing that Trump and her have not discussed overturning the ACA, adding, "that no one has elicited from me any commitment in a case, even brought up a commitment in the case." 
Barrett continued: "I'm 100% committed to judicial independence from political pressure" adding that she is not "pre-committed" to deciding any case.
Watch more:
11 min ago
Ted Cruz talked about a number of political issues, then asked Barrett about her hobbies and children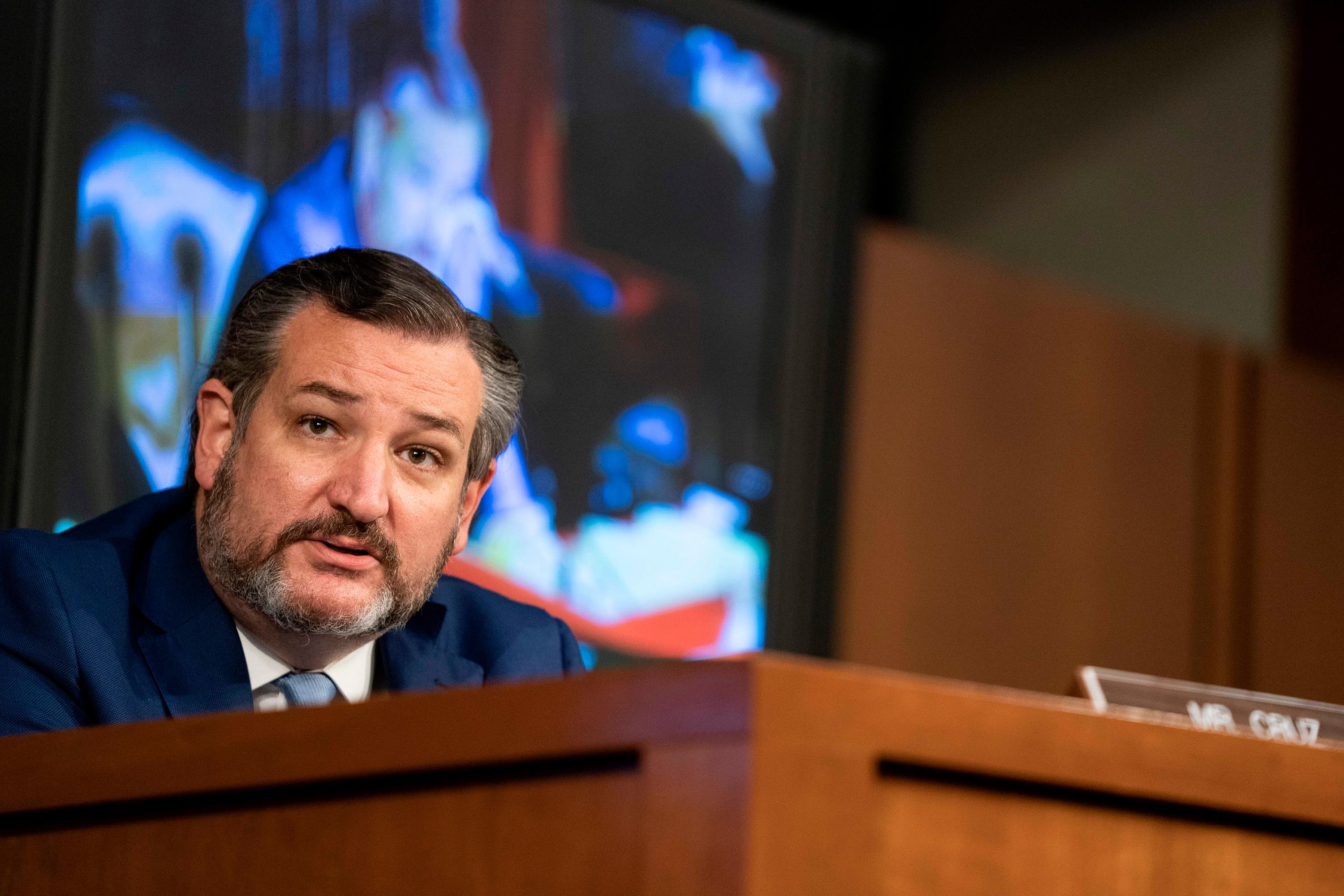 GOP Sen. Ted Cruz used most of his 30 minutes designated for him to ask questions of Supreme Court nominee Amy Coney Barrett to speak about various issues, including religious freedom and the Second Amendment.
After the speech, he added, "Judge Barrett, I'm not going to ask you to respond to any of that."
Instead, Cruz asked Barrett, a federal appeals court judge and a former law professor, about her hobbies and her children.
Cruz asked if she spoke any foreign languages — to which Barrett responded she once studied French, but joked that senators should not ask her to speak it today.
He asked if she played any musical instruments, and after Barrett said piano, he asked if her children also studied the instrument.
Cruz's final question to Barrett: "What advice would you give to little girls?"
Barrett recalled something her father once told her — "anything boys can do, girls can do better" — but added, "Since my sons are sitting behind me, I'll say boys are great, too."
Watch the moment play out:
1 hr 30 min ago
Barrett's confirmation hearing is back in session
The Senate Judiciary Committee has returned from its lunch break, and senators are now continuing with their questioning of Trump's Supreme Court nominee Amy Coney Barrett.
Sen. Sheldon Whitehouse, a Democrat from Rhode Island, is the first to ask Barrett questions following the break.
Each senator on the committee gets 30 minutes of questioning time. Chair Lindsey Graham said today's hearing is scheduled to go until 9 p.m. ET tonight, although exact timing remains fluid.
1 hr 36 min ago
Barrett weighs in on severability — a key issue to the future of Affordable Care Act
From CNN's Jessica Schneider
Amy Coney Barrett weighed in on the issue of severability, telling senators she has no judicial record on the doctrine and has never written about it. Severability is key to the future of the Affordable Care Act because it is one of the two issues the Supreme Court must decide after it hears arguments Nov. 10.
The court will not only decide whether the individual mandate is still constitutional now that the penalty for not obtaining insurance has been dropped to $0, but it will also determine whether the mandate is severable from the entire Affordable Care Act. If the mandate is declared unconstitutional by the court and it is not severable, the entire Affordable Care Act must be struck down. If the mandate is severable, the law will be able to stand. 
Barrett described the issue this way:
"There's a doctrine called severability which sounds like legalese but what it means is, is it OK with a statute, could you just pluck that part out and let the rest of the statute stand? Or is that provision which has been zeroed out so critical to the statute that the whole statute falls. So really the issue in the case is this issue of severability and it's not something I've ever talked about with respect to the Affordable Care Act. Honestly I haven't written anything about severability that I know of, at all."
Democratic Sen. Dianne Feinstein followed up asking, "So you have no thoughts on the subject?" Barrett responded, "Well, it's a case that's on the court's docket and the cannons of judicial conduct would prohibit me from expressing a view."
Republican Sen. Mike Lee also batted back the belief that Barrett has already weighed in on the Affordable Care Act because of her previous writings. In a 2017 writing, Barrett criticized Chief Justice John Roberts for siding with the liberals in 2012 to declare the mandate constitutional because it fell under Congress's taxing power. Lee made the point that Barrett's criticism then has nothing to do with the issues that will be presented to the Supreme Court on Nov. 10. 
"That happened, it's inexcusable that he did that, he misused the judicial authority," Lee said. "That case has absolutely nothing to do with California versus Texas. It has absolutely nothing to do with the question of severability in that case. Would it be fair to say that my very strong opinions that I've just expressed do not indicate how I would feel, how I would lean were I a jurist in California versus Texas?"
Barrett responded, "I think you're correct Sen. Lee that the question, the legal issue is entirely different in California versus Texas. Severability is its own independent doctrine and has nothing to do with the statutory interpretation questions presented in Sibelius."
53 min ago
Barrett's tone today is reminiscent of Trump's first nominee during his hearing
From CNN's Ariane de Vogue
Throughout the day, Judge Amy Coney Barrett has been frank at times, passionate at other times. But there have also been occasions where she's been stern with the senators. 
It is a tone reminiscent of how Justice Neil Gorsuch responded at times when he was sparring with members of the committee during his own confirmation hearing. 
Barrett and Gorsuch also have a similar line when outlining their conservative judicial philosophies and stressing their belief that courts can't always sweep in to solve society's woes. 
Barrett pressed the point that as a judge — she is not a "Queen."
"Nobody wants to live in a court with the 'law of Amy,'" she said at one point and added, "I can ensure you my children don't even want that."  
As for Gorsuch, he has said judges wear "robes, not capes." 
"Do you really want me to rule the country?" he told CNN during an interview last year. 
2 hr 10 min ago
The hearing is taking a break for lunch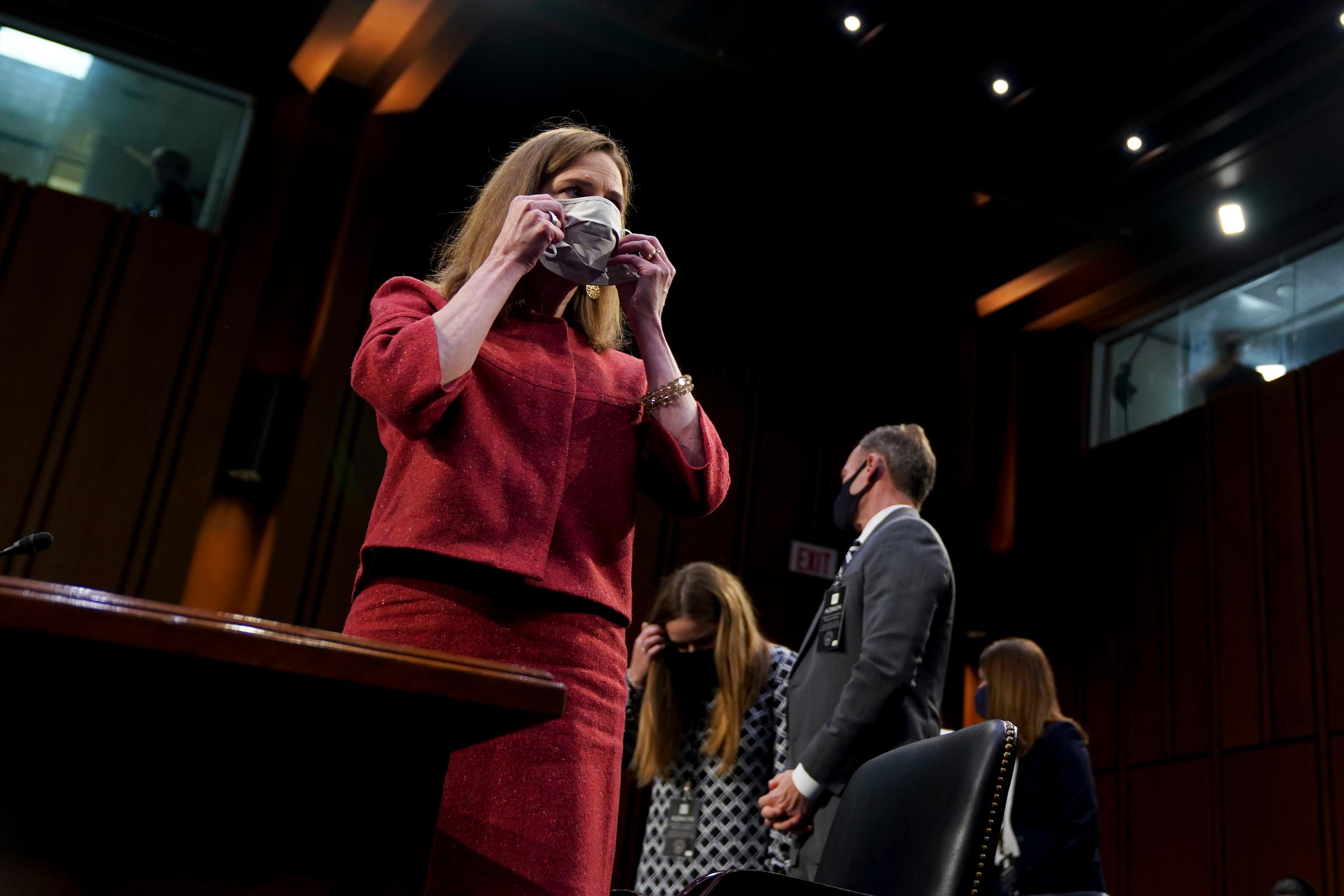 The Senate Judiciary Committee is in recess for lunch following about three hours of questioning. The hearing is expected to resume at 12:45 p.m. ET, Chair Lindsey Graham announced.
Today's confirmation hearing for Judge Amy Coney Barrett is scheduled to go until 9 p.m. ET tonight, Graham said.
2 hr 7 min ago
Barrett: "I'm not hostile to the ACA"
From CNN's Maureen Chowdhury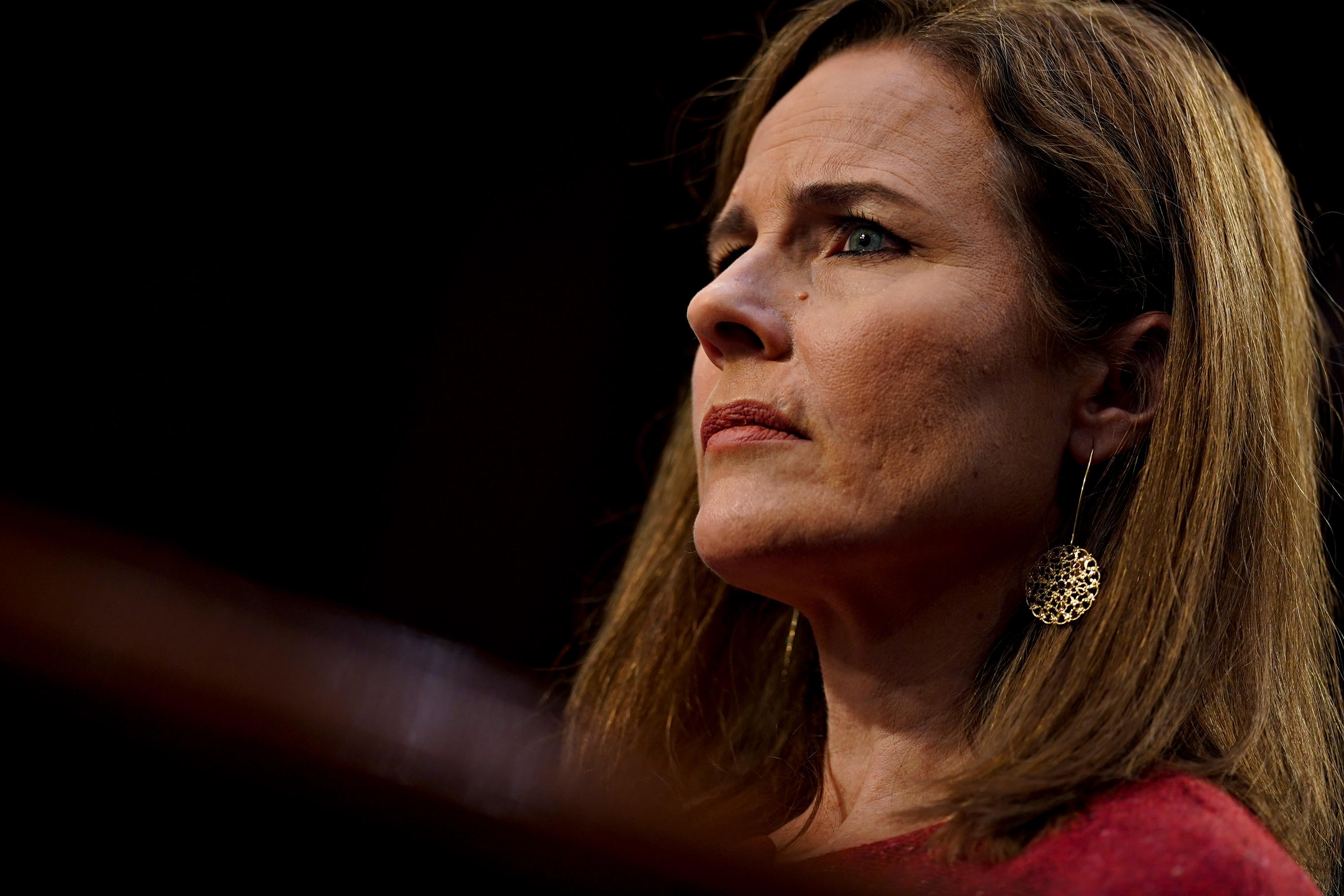 Judge Amy Coney Barrett said that she is "not hostile" to the Affordable Care Act, when pressed about how she would handle the case in November by Senate Minority Whip Dick Durbin.
Durbin pressed Barrett on her previous critiques of majority opinions on the cases of Nfib v. Sebelius and King v. Burwell, which focused on the Affordable Care Act.
"You've been unequivocal in being critical of the decisions both in Nfib v. Sebelius and King v. Burwell and we naturally draw the conclusion there's going to be a third strike when it comes to Texas and California," Durbin said.
Barrett responded that she is not hostile to the Affordable Care Act and that there was difference between her academic writings and judicial decision making.
"When I wrote, and this was as a law professor, about those decisions I did critique the statutory interpretations of the majority opinions, and as I mentioned before, my description of them was consistent with the way Chief Justice Roberts described the statutory question, but I think that your concern is that because I critiqued the statutory reasoning, that I'm hostile to the ACA. And that because I'm hostile to the ACA, that I would decide a case in a particular way. And I assure you, I am not. I'm not hostile to the ACA. I'm not hostile to any statute that you pass. And the cases which I commented … those were on entirely different issues. To assume that because I critiqued the interpretation of the mandate or the phrase established by a state, means that on the entirely different legal question of severability I would reach a particular result just assumes that I'm hostile and that's not the case. I apply the law, I follow the law, you make the policy," Barrett said.
Watch:
2 hr 56 min ago
George Floyd's killing was "very personal for my family," Barrett says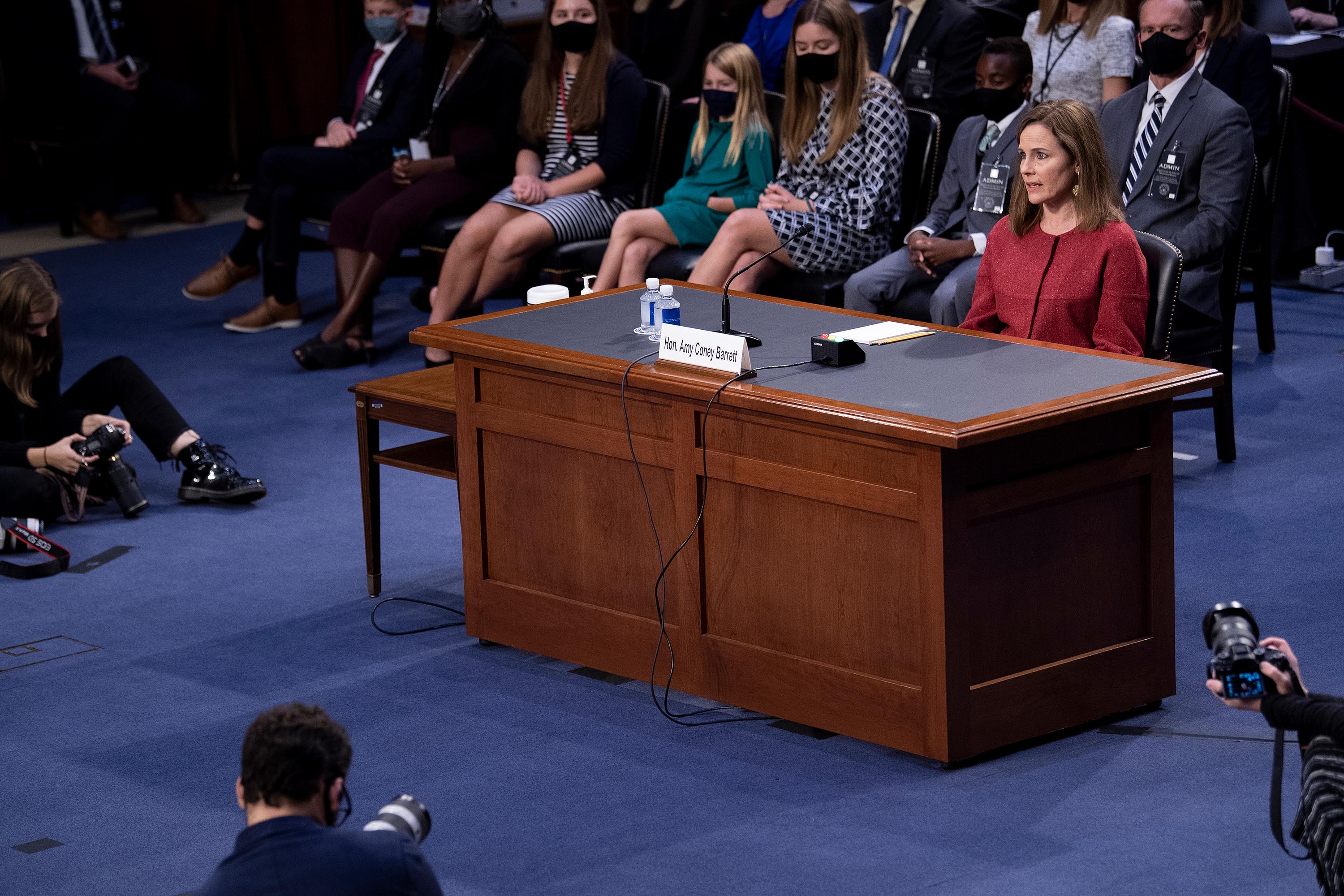 Judge Amy Coney Barrett said the video of George Floyd, who was killed by Minneapolis police this summer, was personal for her family.
"I have two Black children. That was very, very personal for my family," she said.
"My 17-year-old daughter Vivian, who's adopted from Haiti, all of this was erupting, it was difficult for her," Barrett said. "We wept together in my room."
Barrett said Floyd's death was also difficult for her 10-year-old daughter Juliet
"I had to try to explain some of this to them," Barrett said of her children.
On the larger topic of racism, Barrett said that while she is willing to discuss the reaction her family had to the incidents of police brutality towards Black people in America, "giving broader statements or making broader diagnoses about the problem of racism is beyond what I'm capable of doing as a judge," she said.
But "racism persists in our country," she added.
Watch: