1 min ago
Biden tested negative for Covid-19 today
From CNN's Arlette Saenz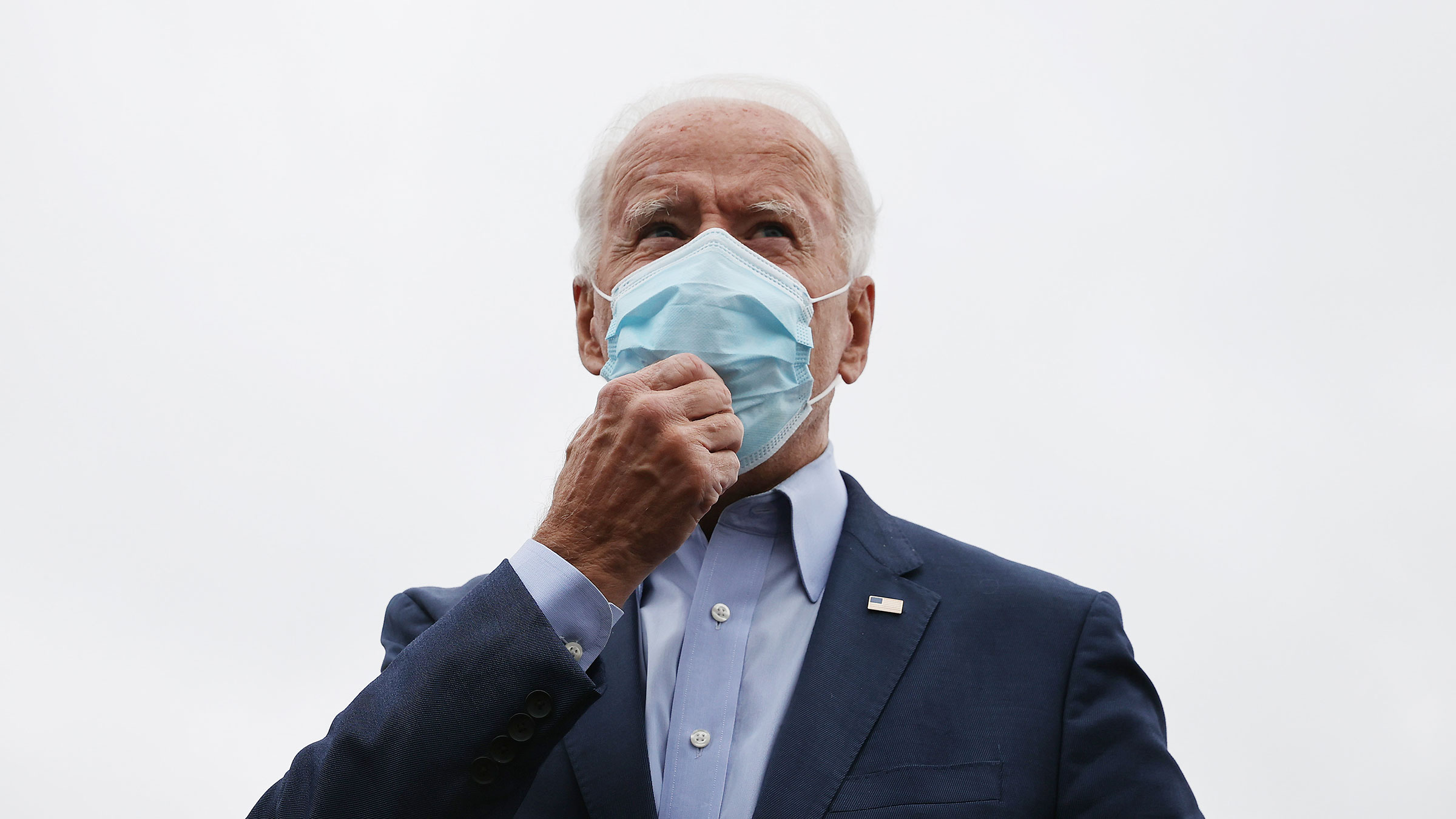 Democratic presidential nominee Joe Biden tested negative for Covid-19 today, the campaign told the press pool.  
From the campaign:
"Vice President Biden underwent PCR testing for COVID-19 today and COVID-19 was not detected."
4 min ago
Elections can be done safely during a pandemic, WHO says
From CNN's Amanda Watts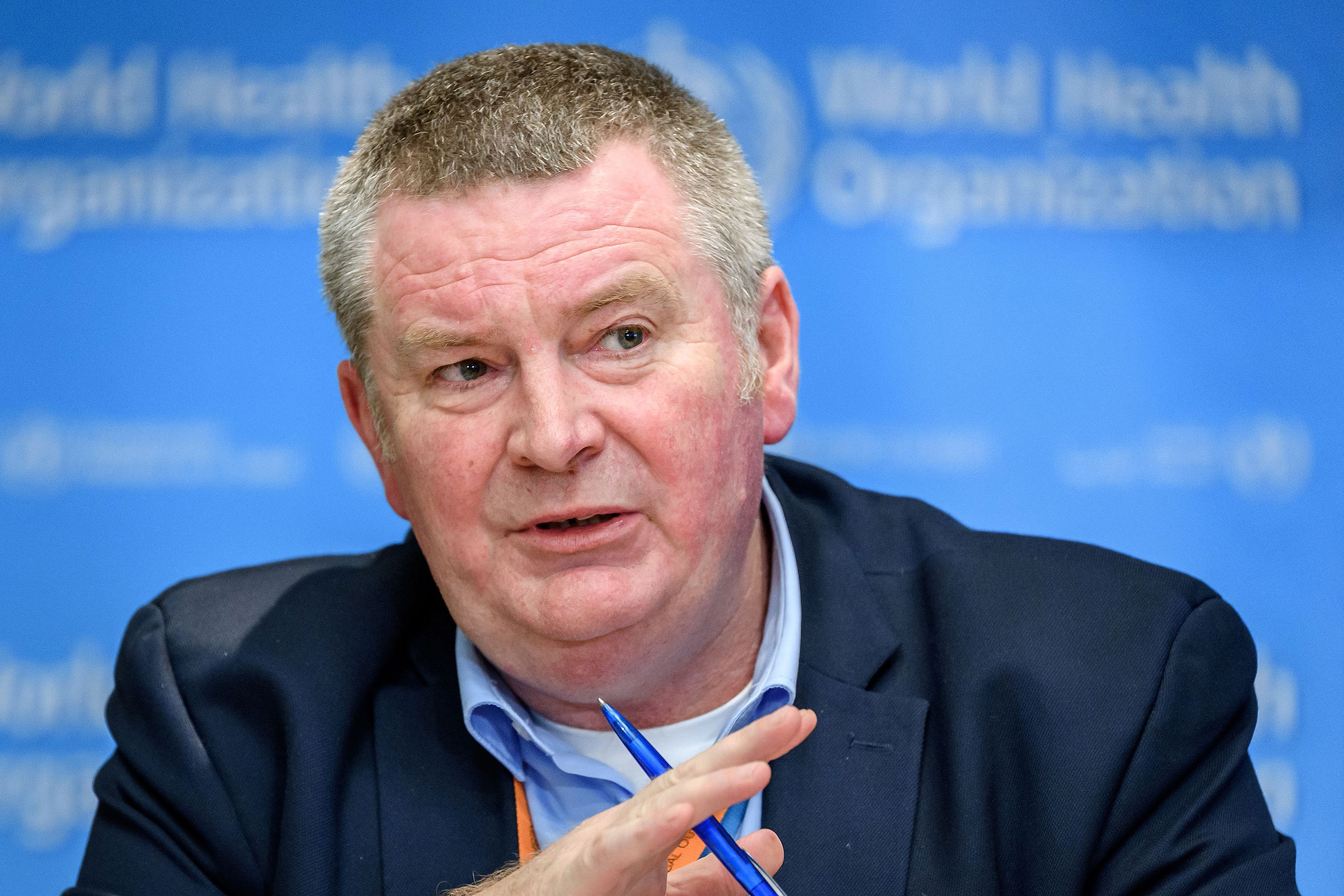 The World Health Organization said elections can be done safely during a global pandemic.
"We've seen many examples over the last nine months where elections have actually been held very safely and with appropriate measures," Dr. Mike Ryan, executive director of WHO's Health Emergencies Programme, said during a Monday briefing. But, "It takes effort," he added.
"You cannot reduce the risk to zero, but what you can do is identify and manage those risks, especially where in-person voting is the choice of the country," Ryan said. 
While WHO doesn't specify "what the proper choice is for the type of election they need to run – that is based on their own risk assessment," Ryan said the organization does offer advice about how to reduce those risks during in-person elections.
He added that elections "are an essential part of our lives and they're absolutely central to how many societies live survive and thrive. They are a very important part of the cycle of life."
1 hr 38 min ago
White House chief of staff refuses to talk on camera while wearing a mask
From CNN's Kristin Wilson
White House chief of staff Mark Meadows came briefly to the stakeout camera today. He moved back the mic stand but when he started to take off his mask but was asked by CNN to leave it on. He said, "Well I'm more than 10 feet away."
Reporters insisted he keep on the mask and Meadows refused.
"Well, I'm not going to talk through a mask," he said, and walked away.
Here's the complete exchange:
MEADOWS: Let me pull this away (pulls mic stand further from reporters) that way I can take this off.
CNN: No can you please keep it on?
MEADOWS: I'm more than 10 feet away.
CNN: No…
MEADOWS: (puts mask back on and begins to walk away) I'm not going to talk through a mask.
1 hr 59 min ago
Federal judge dismisses challenge to 7-day grace period for ballots in Minnesota
From CNN's Taylor Romine
A federal judge ruled Monday morning to maintain the 7-day grace period for accepting ballots in Minnesota, according to court documents.  
Judge Nancy E. Brasel denied a preliminary injunction for the lawsuit filed by Republican presidential electors James Carson and Eric Lucero, saying that neither plaintiff had the standing to claim personal injury by maintaining the extended deadline. Brasel also rejected the notion that electors would be injured by "last‐minute litigation over ballot eligibility" that could prevent certification of Minnesota's election results. 
"The prospect of hypothetical unlawful votes in the upcoming presidential election is not a harm unique to the Electors," Brasel said in her decision.  
She also noted that the claim that with the change of rules would cause "chaos and uncertainty will result," but said that the electors "alleged confusion and uncertainty is speculative at best."
The suit claimed that Secretary of State Steve Simon exceeded his authority in allowing the extended receipt deadline for ballots, and that the extension violated the congressional mandate that election day be held on Nov. 3. 
On Aug. 28, Simon issued to guidance to voters that allowed any ballot postmarked before or on Nov. 3 to be accepted within a week of Election Day. The guidance came after a lawsuit filed in May that argued that the strict adherence to the ballot deadline even when ballots were sent by Election Day "disenfranchises thousands of voters," according to the lawsuit. 
Brasel was nominated by Trump in 2018 and confirmed as a district judge on the US District Court for the District of Minnesota.
2 hr 47 min ago
Trump campaign manager back to work after Covid-19 diagnosis
From CNN's Betsy Klein and Ryan Nobles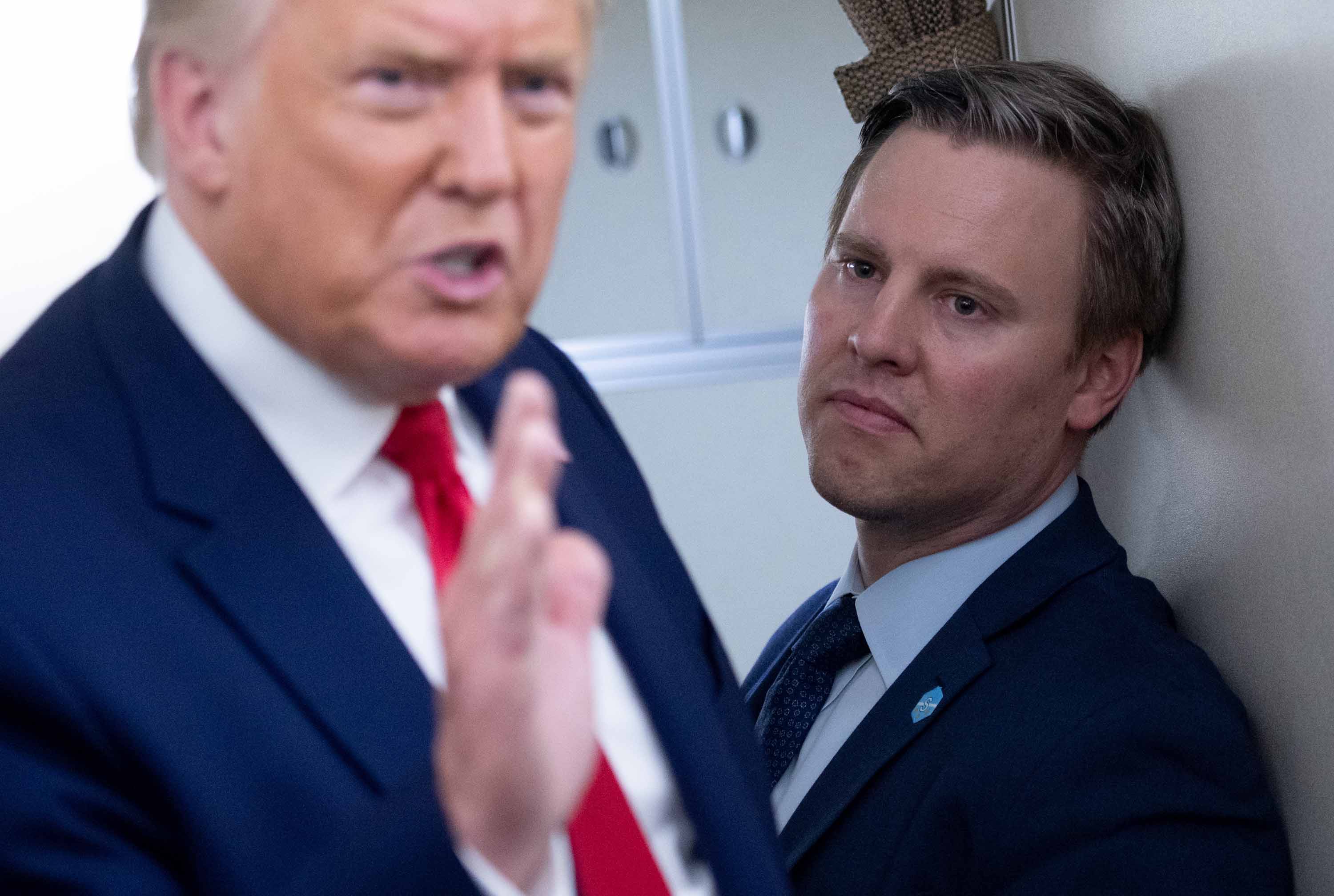 Trump campaign manager Bill Stepien has returned to campaign headquarters after testing positive for coronavirus on Friday October 2. 
"I am back at headquarters in full accordance with CDC guidelines," he told reporters at the beginning of a campaign briefing call.
He joked that he "appreciated the notes, flowers, and chocolates."
3 hr 18 min ago
Barrett's faith "should not be considered" during hearing and focus should be on ACA, Biden says
From CNN's Sarah Mucha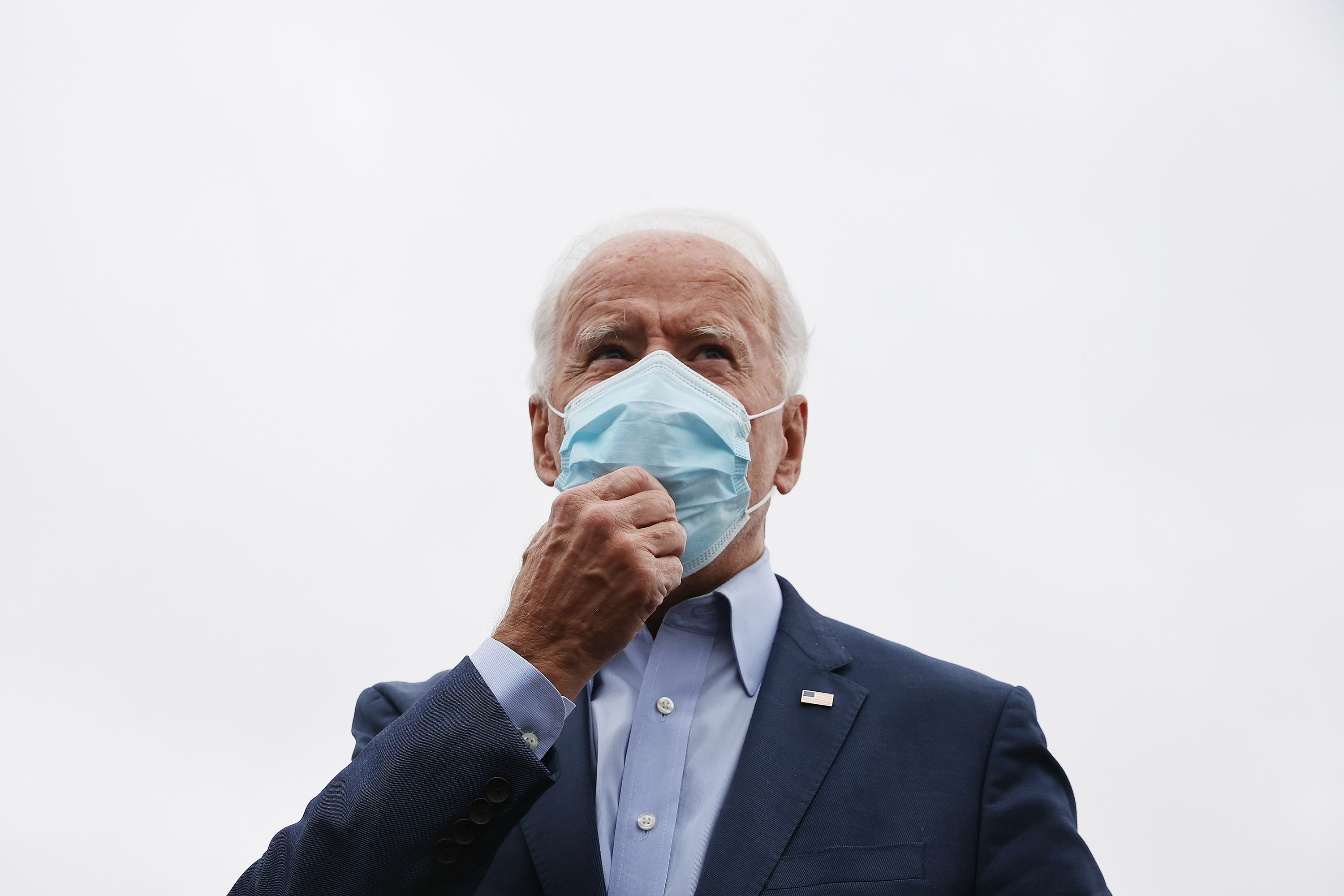 As he boarded his plane to Ohio in Delaware, Democratic presidential nominee Joe Biden told reporters on the tarmac that Amy Coney Barrett's faith "should not be considered" during her Supreme Court Justice confirmation hearing taking place this week.  
Instead, the Democratic nominee said the focus should be on health care.
"No one's faith should be questioned," he said. "But I tell you what, we're already in the midst of a real play here. Everyone knows in 28 days 20 million Americans may lose their health care. This nominee said she wants to get rid of the Affordable Care Act, the President wants to get rid of the Affordable Care Act."
"Let's keep our eye on the ball. This is about whether or not in one – less than one month, Americans are going to lose their health insurance," he added.
Follow live coverage of Barrett's confirmation hearing here.
2 hr 40 min ago
Progressive group stages protest outside Capitol and Supreme Court ahead of Barrett's hearing 
From CNN's Rachel Janfaza
As Judge Amy Coney Barrett's Supreme Court nomination hits the Senate floor Monday, Demand Justice, a progressive movement focused on restoring "ideological balance" to the Supreme Court, is ramping up resistance efforts to block Barrett's confirmation.
Ahead of Barrett's Senate hearing Monday morning, organizers with Demand Justice protested outside the Capitol and Supreme Court wearing hazmat suits with signs that said "No COVID Test No Hearing."
The organizers were joined by protestors from the Center for Popular Democracy, another progressive organization working to fight efforts to confirm a new Supreme Court justice ahead of the election.
Tonight, Demand Justice will host a virtual celebration in honor of the late Justice Ruth Bader Ginsberg featuring speakers including Hillary Clinton, House Speaker Nancy Pelosi, Stacey Abrams, Elizabeth Warren, Kirsten Gillibrand and Ayanna Pressley, as well as celebrities, artists and leaders such as Miley Cyrus, Demi Lovato, Jessica Biel, Gloria Steinem, Chelsea Clinton, Rosario Dawson, Chelsea Handler and more.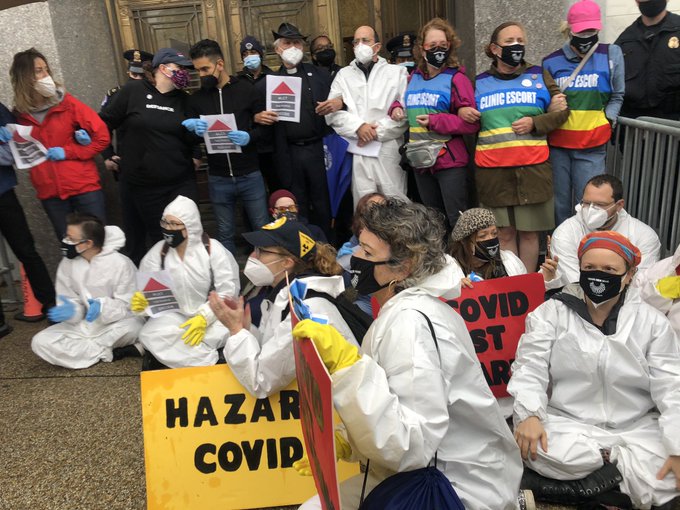 According to organizers with Demand Justice, the star-studded line up will focus their remarks on Justice Ginsberg's dying wish to not be replaced until a new president is elected.
Demand Justice is also out with a new ad for digital Monday, which focuses on what the organization says are "broken promises" from Republicans who fought to withhold a Supreme Court nomination process in 2016 featuring audio from Sens. McConnell, Lindsey Graham, Thom Tillis, Joni Ernst and Ted Cruz, as well as PresidentTrump. 
"They don't care about being called hypocrites," the ad says, "they care about getting to take away healthcare, reproductive rights, civil rights."
The group has been responsible for projecting images with phrases such as "No more Trump justices," "Save Roe v. Wade," and "No Confirmation Until Inauguration" onto the Trump Hotel in Washington, DC.
4 hr 13 min ago
Early voting delayed for about an hour at State Farm arena in Atlanta
From CNN's Nick Valencia and Jason Morris
Voting at State Farm Arena in Atlanta, Georgia, was delayed for about an hour after what appeared to be a technical glitch with the poll pads that are being used to cast votes.
Steve Koonin, President CEO of the Atlanta Hawks and State Farm Arena, told CNN, "I am very upset that we were put into this position, that's why we required people on site and I'm glad to say it got resolved quickly."
Some context: Today is the first day for early voting in Georgia. State Farm Arena is being used as a voting supersite to accommodate large numbers of voters. Many arenas around the country are being used as voting sites this year to help maintain social distancing during the pandemic.  
Koonin said 60 poll pads needed to be rebooted.
"The cards were being rejected by the machine. When a few voters put their cards in, and they were rejected," he said, adding that voting has since resumed.
"We are playing catch up," Koonin said.
CNN has reached out to Fulton County and the Georgia Secretary of State for comment.
4 hr 40 min ago
White House and Trump team push to reschedule in-person debate
From CNN's Paul LeBlanc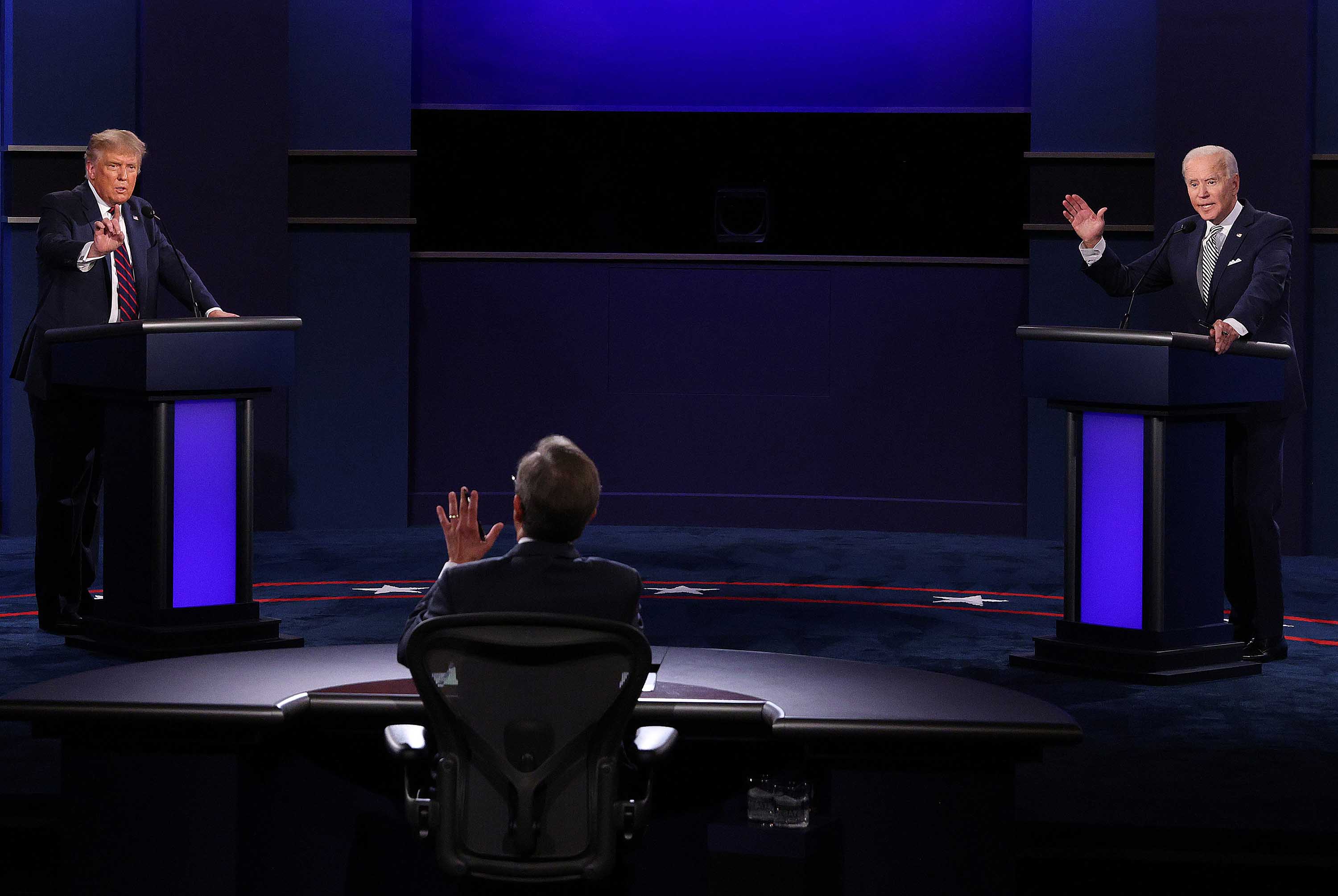 President Trump's reelection campaign and the White House are pushing for an in-person presidential debate after Trump — who has repeatedly flouted best public health practices since his Covid-19 diagnosis — declined last week to participate in a virtual format.
The latest effort from senior campaign surrogates and West Wing staff on Sunday comes after the White House physician cleared Trump to resume public activity, but declined to say when the President's last negative test took place.
"The President is ready to debate and his doctors have cleared him for participating in public engagements," White House deputy communications director Brian Morgenstern told reporters at the White House Sunday. "They've said he's no longer a risk for transmission so it would be nice if the commission would get the debate back on the schedule."
With the backing of their health advisers, the commission had announced Thursday morning that — because Trump had recently tested positive for Covid-19 — the debate that was scheduled for Miami would be held virtually, with the two candidates appearing from remote locations.
Trump swiftly rejected that plan, saying he would not show up and setting off a series of events that put the future of all general election debates into question.
The last-minute push for an in-person debate reflects the mounting risk of Trump's decision to walk away from the virtual debate at a time when his campaign is trailing in national polls and in a number of key swing states with less than four weeks to go until Election Day.
Read more here.