1 min ago
USPS asks for leeway to implement election mail rulings
From CNN's Marshall Cohen and Paul P. Murphy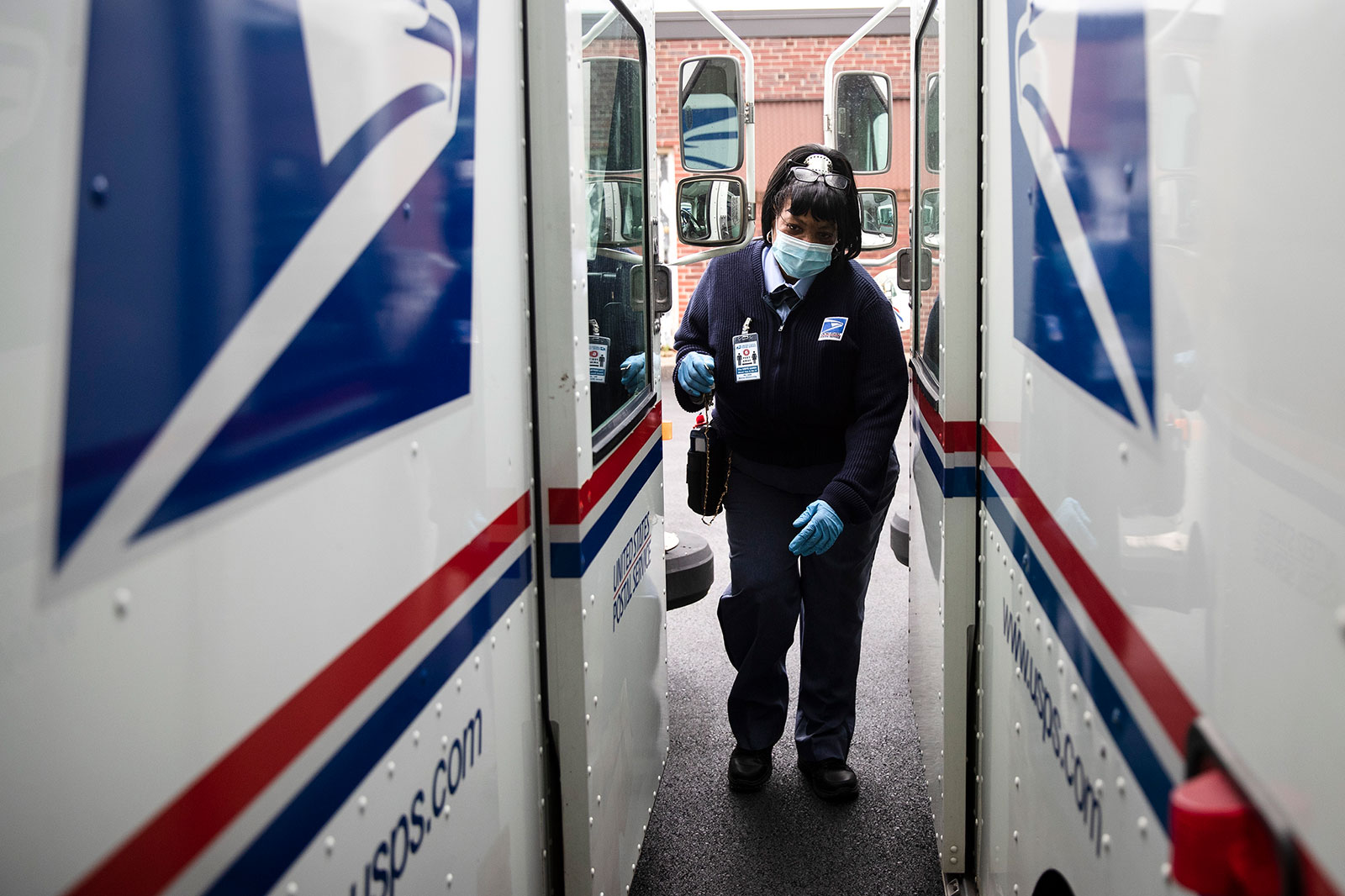 The United States Postal Service has asked two federal judges for more leeway as it tries to implement court orders regarding election mail, saying in court papers that their orders could inadvertently imperil the delivery of mail-in ballots.
The agency is operating under court orders from multiple judges across the country, who have given specific directions to prioritize election mail, approve overtime and allow late deliveries to get ballots to voters. These court orders were issued after Democratic officials and candidates sued USPS in federal court.
USPS is seeking clarification from a federal judge in Washington, DC, saying Monday in court filings that his recent order "would undermine the Postal Service's ability to timely deliver the mail before the upcoming election." That case was brought by Democratic attorneys general in New York, New Jersey and Hawaii.
In the request to that judge, USPS said it wants the court to make clear that it doesn't have to replace mail-sorting machines that are missing parts or have been already entirely removed. There was considerable controversy over the summer about why the machines were being dismantled at a time when USPS was expecting a record level of mail-in balloting.
In a separate case, Justice Department lawyers representing USPS asked a federal judge in Pennsylvania to give the agency more flexibility as it tries to implement the "patchwork of overlapping" court orders. Lawyers representing USPS told the court Monday that they want a hearing "as soon as practicable" to deal with the issue, and that they might seek an emergency stay from a federal appeals court if they don't get their way.
In the Pennsylvania case, USPS wants to reinstate now-paused guidance for when mail trucks can make late trips and extra trips, so as to not inadvertently run afoul of the order. These practices were cut back after Postmaster General Louis DeJoy took over in July, but federal judges ordered USPS to undo his changes, because they threatened the delivery of election mail. 
"To be clear, USPS understands that it is not permitted by this Court's order to prohibit late or extra trips, and it has issued guidance to that effect," the Justice Department lawyers said, adding that efforts to comply with the court's earlier order "could produce delays in the delivery of Election Mail — the precise harm the Court sought to cure."
USPS is also seeking to limit its responsibility for policies that local managers have enacted that could impact mail delivery. They said that's because the agency has more than 20,000 supervisors and managers.
25 min ago
Senate Judiciary Democrats have tested negative for coronavirus
From CNN's Ali Zaslav, Lauren Fox and Ted Barrett
So far, all of the Senate Democrats on the Judiciary Committee have tested negative for coronavirus after GOP committee members Sens. Mike Lee of Utah and Sen. Thom Tillis of North Carolina attended two hearings last week and were seen speaking without masks. Lee and Tillis both tested positive for coronavirus on Friday. 
The only Senate Democrat who was not present at the Capitol last week was Democratic vice presidential nominee Sen. Kamala Harris, but she has also so far tested negative as part of routine testing on the campaign trail
It appears Democrats on the committee are taking a more conservative approach than several of their colleagues across the aisle and being tested for coronavirus "out of an abundance of caution" after attending one or two of the Judiciary committee meetings last week, despite not being in close contact with Covid-positive senators and being spaced out in a large hearing room.
Sen. Dianne Feinstein of California, who is 87 years old and the ranking member of the committee, was tested on Monday for coronavirus after attending the hearings last week where she was also seen speaking without a mask.  
Comparatively, as CNN reported Monday, 87-year-old GOP Sen. Chuck Grassley — who is third in line of succession to the President — declined to get a coronavirus test. Grassley's aide Michael Zona said his doctors have not recommended he be tested, suggesting that while Grassley was near and around those sick senators his contact with them was not close enough or long enough to warrant getting tested.
The two GOP members on the committee that are self-isolating due to close contact with Covid-19-positive senators are Sen. Ted Cruz of Texas and Sen. Ben Sasse of Nebraska, but both have reported testing negative.
Three GOP senators who tested negative on the Judiciary Committee are Sen. Josh Hawley of Missouri, Sen. Mike Crapo of Idaho and Sen. Marsha Blackburn of Tennessee. The three of them attended last Saturday's White House Rose Garden ceremony for Supreme Court nominee Amy Coney Barrett, which is now feared to be a super spreader event because several attendees have tested positive.
The chair of the committee, Sen. Lindsey Graham of South Carolina, reported testing negative.
Republican Sen. John Kennedy of Louisiana, who is also on the committee, declined to say whether he was tested for coronavirus. Kennedy was not at the Rose Garden event nor at the markup Judiciary held on Thursday of last week. 
And GOP Iowa Sen. Joni Ernst's office has not responded to multiple requests on whether she has been tested.
The Democratic senators on the committee that reported testing negative, in addition to Sen. Feinstein, are Sens. Patrick Leahy of Vermont, Sheldon Whitehouse of Rhode Island, Dick Durbin of Illinois, Mazie Hirono of Hawaii, Richard Blumenthal of Connecticut, Amy Klobuchar of Minnesota, Cory Booker of New Jersey. 
And Sen. Chris Coons of Delaware also reported testing negative, but said he was tested due to his attendance of the presidential debate.
1 hr 2 min ago
Trump "continues to do extremely well," his doctor says
From CNN's Sam Fossum
President Trump continues to do "extremely well," White House physician Dr. Sean Conley said in a memorandum released Tuesday.
The President met with a "team of physicians" at the residence this morning after a "restful first night at home," the statement reads. 
"Vital signs and physical exam remain stable, with an ambulatory oxygen saturation level of 95-97%," Conley wrote. 
"Overall he continues to do extremely well," Conley wrote. "I will provide updates as we know more."
Watch:
1 hr 41 min ago
White House residence staff: "Nervousness has elevated," source says
From CNN's Kate Bennett
The White House executive residence staff has dwindled to "extremely essential," a source familiar tells CNN. The source reiterated CNN's reporting from earlier this week that staff remain "nervous," and "there is concern," for their safety and well-being. The source added this is even more the case since President Trump returned to the White House last night. 
"The nervousness has elevated since the President got back," said the source, who confirmed there is a skeleton crew of staff overall in the residence, and these staff are taking "extreme precautions." This person would not elaborate on what exactly those precautions are. 
Asked to comment on the above concerns from residence staff, many of whom have worked inside the White House for many years, if not decades, Melania Trump's chief of staff Stephanie Grisham told CNN, "In consultation with the White House medical unit, every precaution is being taken to keep staff safe and healthy."
There are now approximately eight to10 staff rotating in shifts inside the residence, which has its own private family kitchen, as well as several bedrooms, on both the third and fourth floors, and about 15 bathrooms. The staff roles remaining to watch over the first family, and help with cooking and cleaning and other tasks, likely include housekeeper, butler, cook and maintenance, according to a former residence senior staffer familiar with movements and requirements. The chief usher, Timothy Harleth, whose job it is to oversee household operations and staffing at the direction of the first lady, is also likely on "close standby," if not on the grounds, says the source familiar. 
Typically, the White House residence staff numbers hover in the 90- to 95-person range. These include kitchen staff, housekeeping, valets, butlers, flower shop, calligraphers, maintenance and correspondence office. 
In March, as the pandemic spread throughout the country, CNN reported that Melania Trump had reduced the size of the staff to only essential workers, sending the rest home, only coming in on an as-needed basis. That number was about 12, however, others were brought in on an as-needed basis. For example, when hosting leaders during the signing of the Abraham Accord last month, the social secretary, floral shop staff and more kitchen staff were required, as well as butlers, says the source. Trump, Benjamin Netanyahu, and delegations from Bahrain and the United Arab Emirates spent a day at the White House largely ignoring the ongoing pandemic, focusing primarily, if not almost entirely, on the signing the peace agreements.
The President and Melania Trump announced on Twitter at nearly 1 a.m. Friday that they both contracted coronavirus. The first lady has remained in quarantine at the White House residence since Thursday, says Grisham. 
1 hr 32 min ago
Senior Pentagon leadership quarantining after exposure to coronavirus
From CNN's Barbara Starr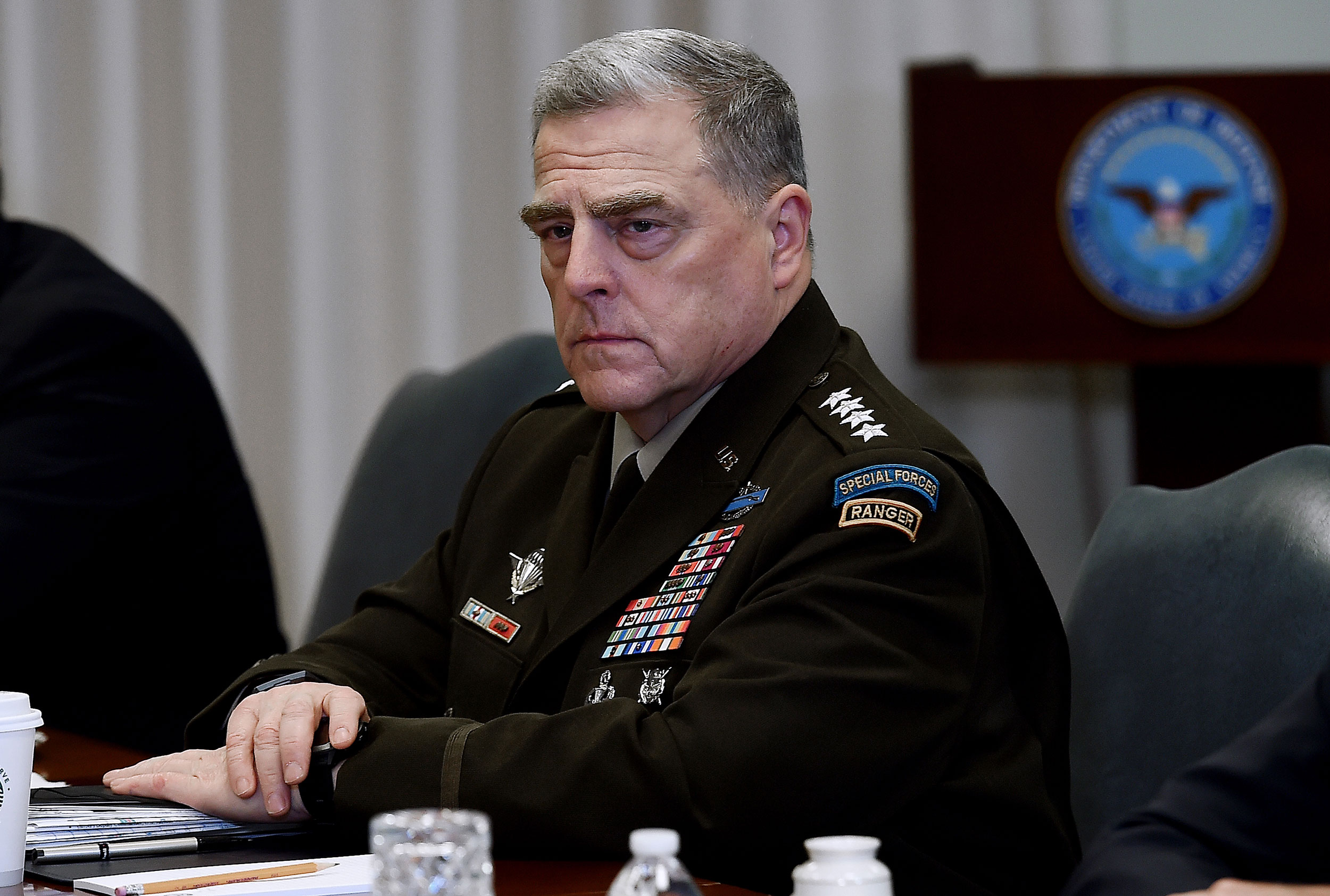 The top US general, Gen. Mark Milley and several members of the Joint Chiefs of Staff are quarantining after a top Coast Guard official tested positive for coronavirus, several US defense officials tell CNN.  The Vice Commandant of the US Coast Guard, Admiral Charles Ray learned he was infected.
Ray recently attended several meetings at the Pentagon in secure areas with members of the Joint Chiefs. Multiple defense official tells CNN that senior Pentagon leadership who had been in proximity to Ray have been tested and are awaiting results. 
As a precaution, the Chairman of the Joint Chiefs General Mark Milley is working from home a defense official says. Milley has so far tested negative.
As President Trump's top military advisor he maintains a full classified communications suite in his house, the official said.
The Chief of Staff of the US Air Force Charles Browne, the Chief of Naval Operations Admiral Michael Gilday and the Chief of Space Operations, Gen. John Raymond also are all working from home, according to several officials.
Watch:
1 hr 56 min ago
Kamala Harris tested negative for Covid-19 Monday
From CNN's Jasmine Wright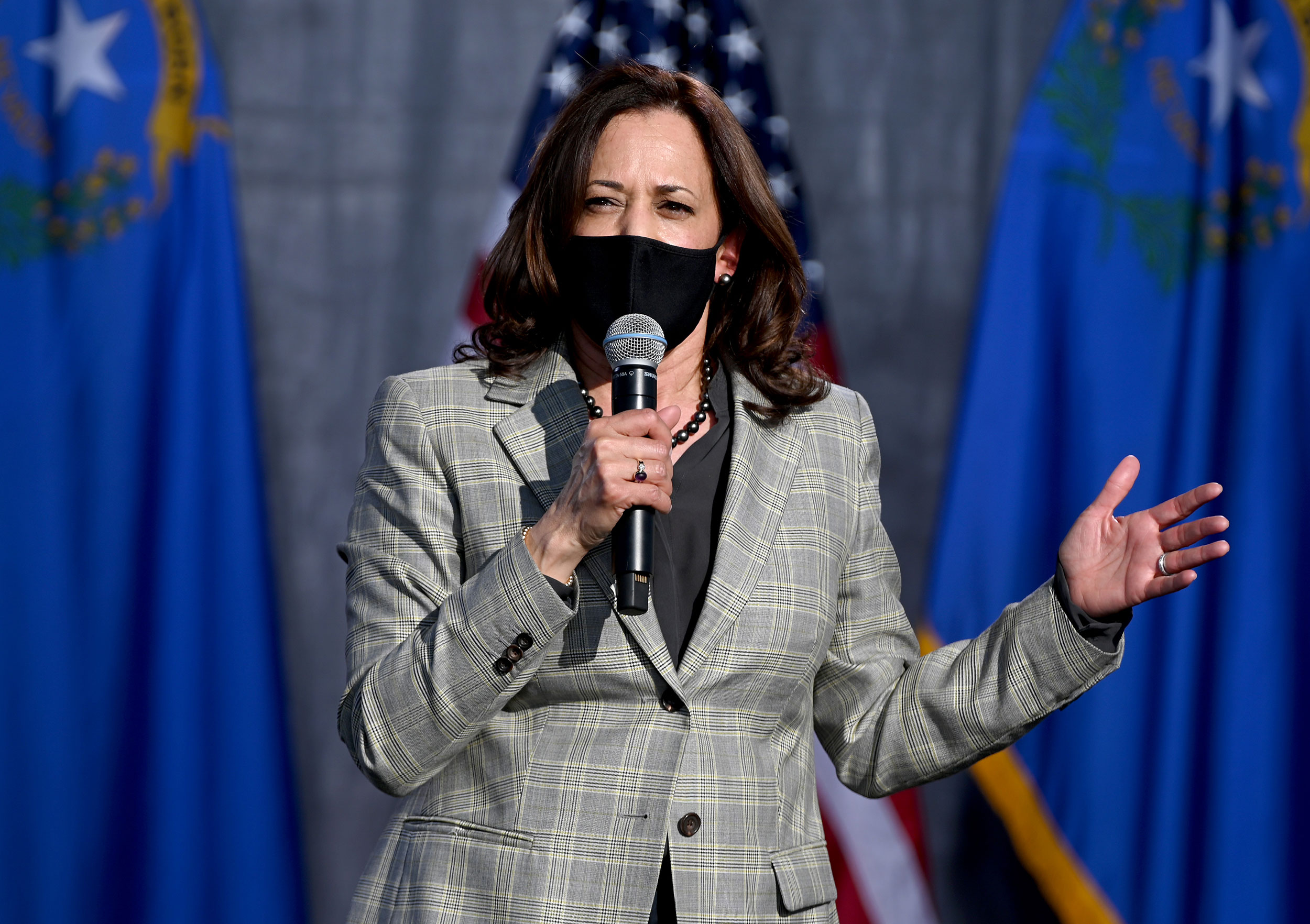 Sen. Kamala Harris underwent PCR testing for Covid-19 Monday, and Covid-19 was not detected, a Harris aide told CNN on background. 
Harris is scheduled to debate Vice President Mike Pence tomorrow night in the vice presidential debate.
2 hr 1 min ago
Trump calls for repeal of Section 230 after social media companies take action against his false Covid-19 claim
From CNN's Nikki Carvajal
Shortly after social media companies took action against a false claim about coronavirus posted by President Trump, the President tweeted calling for the repeal of Section 230 of the Communications Act of 1934. 
"REPEAL SECTION 230!!!," the President wrote, in all caps, on Tuesday. 
For decades, Section 230 has been used by tech companies to dismiss lawsuits arising over user content appearing on their platforms. Under the existing law, companies have received legal immunity for removing content they deem "objectionable."
Facebook on Tuesday removed a post from President Trump in which he falsely claimed that Covid-19 is less deadly than the seasonal flu, CNN's Donie O'Sullivan reported.
Facebook spokesperson Andy Stone confirmed the company removed the post for breaking its rules on Covid-19 misinformation.
Hours later, Twitter placed a label on Trump's tweet saying it breaks the company's rules on "spreading misleading and potentially harmful information related to Covid-19."
However, the company said on the label that it will not remove the tweet as it "may be in the public's interest for the Tweet to remain accessible." It took Twitter more than three hours to label the tweet.
1 hr 59 min ago
White House press secretary dodges questions about "super spreader" event
From CNN's Nikki Carvajal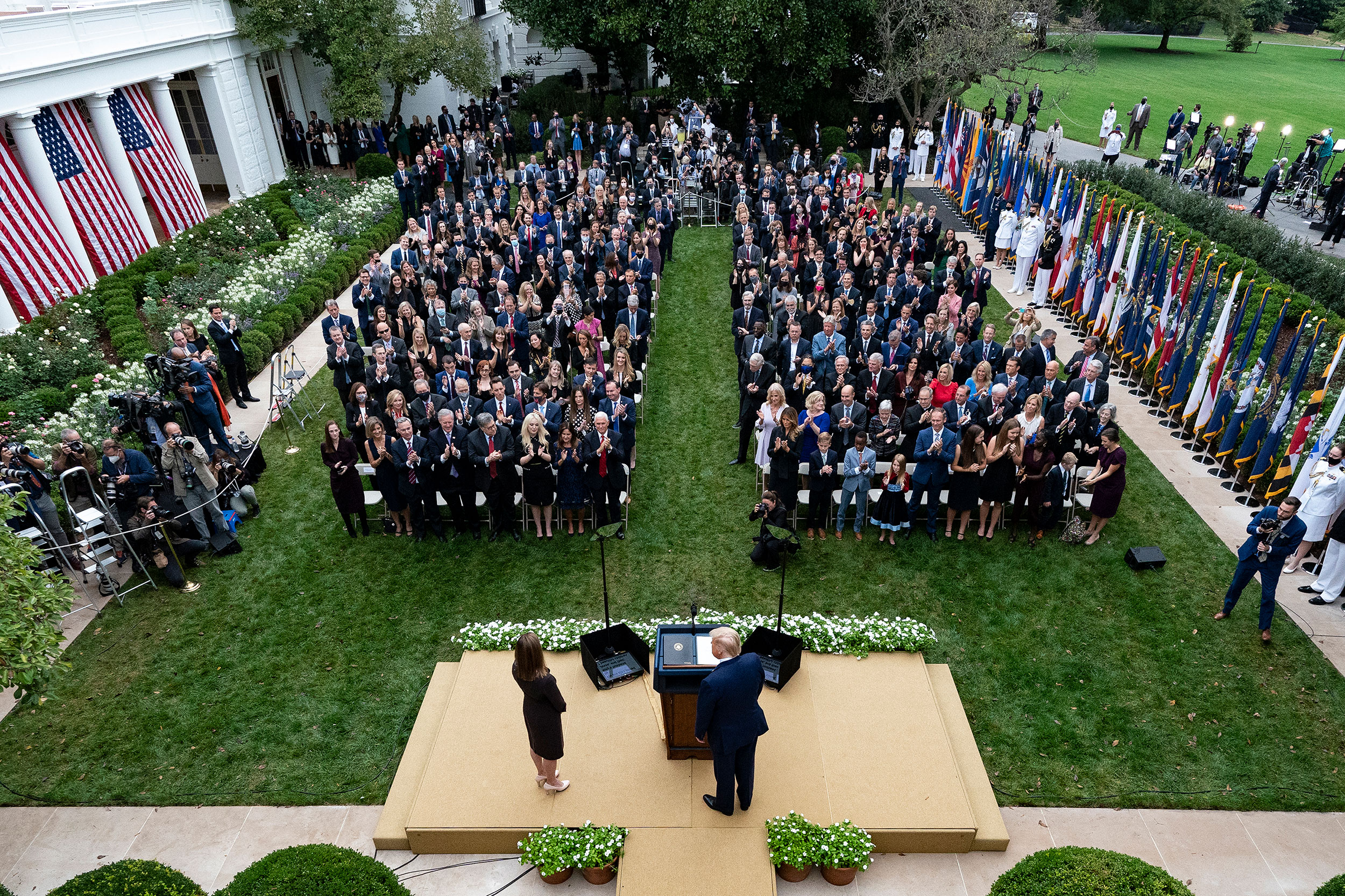 The White House is dodging questions about the Rose Garden celebration for Judge Amy Coney Barrett and whether it was a "super spreader" event after several attendees tested positive for Covid-19 days later.
"There's no way to say exactly where this originated," White House press secretary Kayleigh McEnany said Tuesday, who herself tested positive and was speaking to Fox Business via a webcam. "Certainly several of the people who tested positive were at that event, but many of these individuals interact routinely on a daily basis."
"There's no way to put a pinpoint on it," she added.
McEnany also claimed that contact tracing began when Covid-19 cases started surfacing, but CNN's reporting has shown little to no effort to contact attendees from the event.  
"It's safe to say that as soon as there were positive cases, contact tracing process began, and we move forward," McEnany claimed. "The White House has been plagued by this disease just like so many Americans, but the President is overcoming this and America too will overcome this point in our history."
Some more context: Earlier Tuesday, CNN's Nick Valencia reported the White House declined offers from the US Centers for Disease Control and Prevention to help investigate the outbreak surrounding President Trump's Covid-19 diagnosis, according to a federal health official.
The offer by the CDC to engage with such efforts as running contact tracing occurred almost immediately after the President made public he had contracted coronavirus. Despite the concerns expressed by those at the CDC, including agency Director Dr. Robert Redfield, officials at the White House turned down the CDC's offer to help, the official said.
The offer was repeated in a phone call Monday, according to the source. USA Today first reported the rebuffed offer.
But the White House has shown little indication it is conducting a comprehensive effort to properly trace contacts from those exposed at events like the Supreme Court nomination ceremony where almost no masks were worn and there was no social distancing both at the outdoor event and an indoor reception.
Some attendees said they have had no outreach and others have said, even when notified, they were not asked the slate of questions typically used to document who else may have been exposed through contact.
2 hr 34 min ago
White House press secretary downplays possibility of Trump national address today
From CNN's Betsy Klein
White House press secretary Kayleigh McEnany appeared to downplay the possibility of a presidential address as soon as Tuesday, saying "no decision had been made."
"He certainly does want to address the nation at some point. But in terms of timing of that, certainly no plans as of today, but I think they're always fast moving so should that change, we'll be sure to let you know," she said during an appearance on Fox Business.
 McEnany noted that Trump has been seen "on camera each and every day since he contracted the Covid-19 virus, and I'll bet you'll see him in some form today."